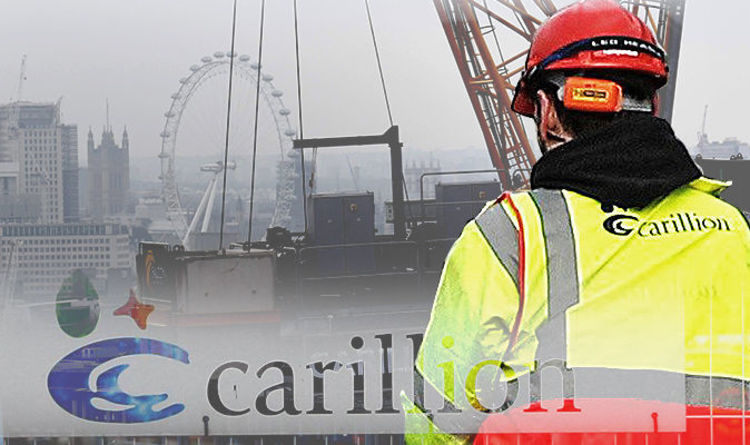 With the news full of the Carillon liquidation we know it's bad news for everyone working there. But the effects are often felt far beyond the company's staff rooms. When the heavy stone of liquidation is thrown into the pond, the ripples go well beyond just the business itself. The water is disturbed for lots of other stakeholders too.
We're seeing proof of that at the moment while the news is full of stories concerning the collapse of the construction services giant Carillion. Employing more than 20,000 people, the Wolverhampton-based firm are the second largest building company in the UK (behind Balfour Beatty).
And when a company as huge as Carillion goes bust with debts of some £1.5bn, the consequences are really quite far reaching indeed...
After recently failing to reach a refinancing agreement with the government and creditors, the company went into compulsory liquidation. PricewaterhouseCoopers have already stepped in to act as Carillion's administrators. They're now pouring over the books and prioritising those gov't departments, banks, people and businesses owed money, but the queue is long and creditors are being primed not to hold their breath.
Mark Upton, who works for the insolvency and restructuring trade body R3 says this to any subcontractors who may be affected by the collapse of Carillion:
"Subcontractors and suppliers are usually classed as unsecured creditors, and come behind secured creditors, such as banks, and employees in the queue for payment. Firms are being told to contact the liquidator for information on their specific case, but at this stage the liquidator will be unlikely to give any firm indication of the outcome for creditors."
"For subcontractors awaiting payment for work carried out for Carillion, there will be an immediate impact on cash flow.
"The subcontractors will, of course, still be expected to pay any outstanding labour or materials costs for the work they have incurred or purchased, and make VAT and other payments due to the Crown authorities. This may, in some cases, include their invoices to Carillion."
"Also in the period ahead there will be an impact on their balance sheets. Bad debts and work in progress may have to be written down, weakening the balance sheet strength.
"Even if this does not cause a risk of insolvency, in practical terms it could affect their credit rating, making it harder for them to raise finance. It may also impact on their ability to win future work as in many formal tendering processes the balance sheet is used as a part measure of stability."
The ripple effect continues beyond Carillion's subcontractors too. There are smaller firms and self-employed workers working for the subcontractors who are not getting paid due to the collapse.
It goes even further than that, as well. Subcontractors with large contracts with Carillion who have invoices outstanding will have other work on with other firms. And have their own subcontractors for those jobs too. People who don't work on Carillion projects at all. Yet those non-Carillion-affiliated subcontractors might see their own invoices go unpaid because the firm they're working for are putting a freeze on all payments while they await the outcome of the Cariollion situation…
It's estimated that anywhere up to a staggering 30,000 SMEs may be negatively affected by the Carillion liquidation.
See what we mean about the ripples once the stone lands in the pond!
The construction industry is particularly dicey for everyone involved. Payment dates are often quite long. With Carillion, submitted invoices must allow for a full 120 days for payment. So some companies are facing losing up to four months of payments for services rendered to the failing company. That can be enough to put a smaller company out of business itself.
Insolvency practitioners like ourselves have seen an upturn in calls from concerned construction companies since the announcement about the construction company's collapse. It's a worrying time for many in the industry. Whether the Carillion liquidation directly affects you or not.
For those small to medium-sized businesses that are looking at financial shortfalls, help may be at hand. Depending who they bank with. Lloyds and Nationwide have already pledged to do their bit to helped SMEs affected by the collapse. Lloyds have a kitty of £50m to assist small businesses in particularly dire straits.
The government's Business Secretary Greg Clark has reportedly met with representatives of some of the UK's biggest banks in order to seek assurances that they too will look to support businesses hit by the Carillion liquidation.
The impact will be felt in the taxpayer's pocket too. The company held nearly 500 government contracts, spanning justice, defence, education and transport.
The firm's collapse means the government will have to provide cash to plug the gap and take over all the public services previously run by Carillion. At the taxpayer's expense.

If Carillion owe you money? Or any firm that goes into liquidation for that matter - apply for the owed funds from the officeholder . And quickly.
Our advice if you're biting your nails over Carillion going into liquidation is to take a long, hard look at your books. If you're still concerned after a thorough examination of your company's financial records, don't be afraid to contact us or someone like us. We can offer advice and assistance. You don't need to suffer alone and in silence. There is a way out.
Solutions may range from voluntary liquidation, which would mean the end of the company and allowing the potential directors a clean break, without debt, to move on from the situation, to refinancing or restructuring, helping the directors to retain their company but reshape it to survive, and ultimately clear, the debt. They may also suggest a voluntary arrangement with creditors that will allow a company to pay off debts with monthly instalments and potentially avoid liquidation.
An Insolvency Practitioner can offer control and relative stability at a time when control and stability are in short supply; they can, in short, offer peace of mind. An Insolvency Practitioner can help a company to through liquidation or restructuring, to ensure that employees are able to claim for unpaid salaries, to relieve the pressure of any debt recovery or court judgements and to stop the HMRC chasing directors for payments
So, in answer to our question, 'Does the Carillon liquidation threaten other contractors?' The answer is a resounding 'Yes'. But there's light at the end of the tunnel.