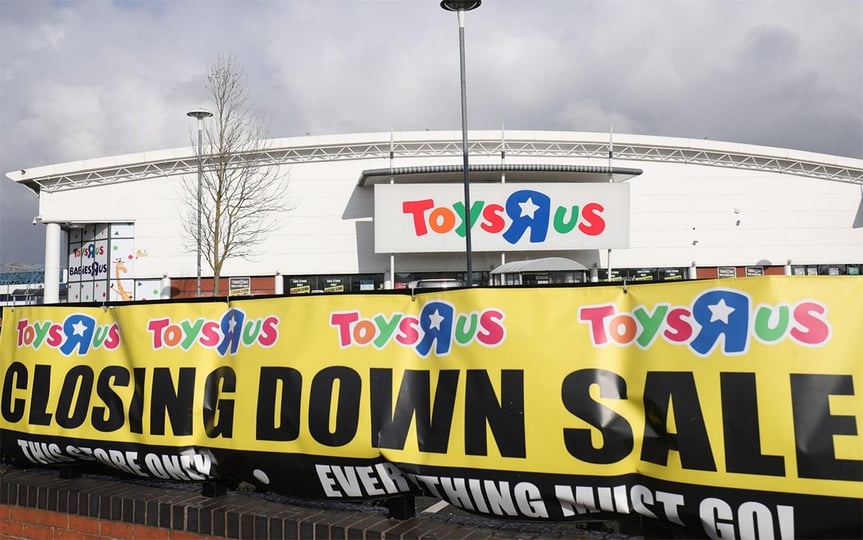 In one of our recent blogs we explained some of the major differences between liquidation and administration (liquidation is the formal closure of a business, administration being more a state of flux while an ailing firm takes stock and attempts to be rescued).
It's a sad fact that businesses up and down the country go into administration and are liquidated every day. Usually these are smaller firms, but every now and again a big player is hit.
At the beginning of the year we heard all about the collapse of the huge construction company Carillion and the fiasco that they and companies associated with them are facing.
And now? It's the UK's biggest toy retailer Toys R Us that are in severe trouble. The chain, which have been on British trading estates since 1985, has been struggling for some time. Following their recent failure to find a buyer, they've found themselves 'appointed to begin an orderly wind-down'.
All 105 Toys R Us stores will remain open while administrators look into the books and the salvage mission is underway. But the threat to the UK arm's 3,200 jobs is very real indeed.
One of the administrators, Simon Thomas, said this about the problems facing Toys R Us:
"Whilst this process is likely to affect many Toys R Us staff, whether some or all of the stores will close remains to be decided. We will make every effort to secure a buyer for all or part of the business."
"The newer, smaller, more interactive stores in the portfolio have been outperforming the older warehouse-style stores that were opened in the 1980's and 1990's."
The news that Toys R Us are in trouble doesn't come as a shock to anyone that's followed them for the past decade or so. The firm has made a loss in seven out of the last eight financial years. And that's something that even the biggest and most resilient business would struggle to deal with.
It doesn't help either that they are a subsidiary of a larger American business which is billions and billions of dollars in debt and filed for voluntary bankruptcy in September of last year.
But what lessons, if any, can be learned from the failing toy chain? Well, quite a few, actually. And, like the old saying goes, 'the wise man learns from the mistakes of others.'
So let's do just that right here and be wise for a minute...
1. You need to adapt in a tough environment
Things are tough at the moment for a lot of businesses. But few sectors have it as tough as retail. To survive the harshness, it's vital to evolve and adapt to the marketplace. Continuing to do the same old things that don't work, is a certain path to failure.
2. Ignore the internet at your peril
Toys R Us sell toys via their website, but they were slow to offer online options and their site struggled to keep up with its competitors. Ecommerce is somewhat of an afterthought to the brand who still think of themselves as primarily, a physical outlet retailer.
3. If you're not competitive, you just can't compete!
A Guardian journalist visited a Toys R Us store recently to investigate what was happening with the company and found toys selling for £40 that are priced at £15 with rival online retailers...
4. You need to excite your customers
The current trend for consumers is very much centred around 'experience'. Lego stores, for instance, have people building things in their stores and they encourage shoppers and children to join in with the experience. That level of interaction and fun works wonders for Lego's sales. Toys R Us stores are boring by comparison. There's no fun to be had in them.
5. Act quickly when things start to go wrong
Toys R Us have known about their issues for a while. And while moves were no doubt made behind the scenes, by all accounts, much more could have been done. Hopefully they can come out of this on the other side. But had they acted quicker and been bolder in their decision making, it's more than possible that this administration may have been avoided.
So there's wisdom to be gained from the financial woes that Toys R Us are currently experiencing.
We wish them all the best and hope that the company can be salvaged.
If any of the issues discussed here have rung alarm bells with you or you're concerned about the financial position of your business, don't be afraid to contact us now for a discussion. Early action is key to saving any ailing business - it's not too late.